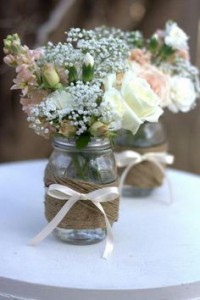 As recommended by David Chen from daPaolo Bistro Bar, we decided to meet Mr Gerard Clark from the Blue Leaf  for our floral decoration. After exchanging a few text messages and a phone call we decided to meet up at his studio at Maplewoods, condo, Bukit Timah. The studio is tucked in the basement of the condo with a nice pool view. Mr Gerard is quite welcoming. The entire studio is full of different vases, jars, tall glasses, hanging ornaments and other floral accessories in just the kind of style I prefer. I already had a positive vibe once I entered the place. Mr Gerard is very accommodating and showed us his past work to have a vague idea of what we are looking for.
We discussed that we are looking for something really in soft and pastel shades as our theme is rustic. He promptly advised us to go for Hydrangeas, Eustoma and Baby Breathe. Being in this industry for over 20 years, Mr. Gerard seemed very experienced and knew precisely what we desired. As I am a huge Mason jar fan, I asked him to replace the vases with Mason jar. He also volunteered to add burlaps around the jars to add a rustic touch. He recommended a shimmering grey table runner which would be apt for reflecting the gleams from the tea light candles to enhance the evening dining ambiance.
We openly informed him that we are planning for a budget wedding and would like have our floral décor done with a range from SGD 500- SGD 600.
Our florist got back to us after 2 weeks with a quotation which is slightly over budget and I am still trying to negotiate on it.
The quotations includes :
Floral for the center of the solemnization table
Floral posies for the Bridal couple seats
Floral posies for the Aisle seats/benches 20.00$ 120.00$
Floral for the Reception table
Floral set up for the dining table with different heights of mason jars , tea lights
silver table runner . .
Cost for delivery , set up and clearing