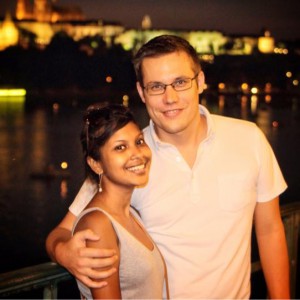 Timo (The Groom To Be): geeky, shy, super caring, charming , gadget freak , awesome cook, traveler
Drish (The Bride To Be): creative, candid, loving crazy DIY home decorator, blogger, experimenting cook!, traveler
The journey so far:
June 2013- We Saw each other
November 2013- We fell for each other
Jan 2014- We lived together
September 2014- We moved to our own exclusive place.
23rd Feb 2015 – He Proposed
26th September 2015–Solemnization
29th – 31st Jan 2016– Big Fat Indian Wedding
Someday in May 2016 – German  after – wedding party
I don't think there could ever be anyone in this world more perfect for me than Timo and I appreciate my good luck in finding such a warm-hearted and loving man. Timo brings out the good in me, he makes me laugh and he makes me cherish each and every moment of life, just by being a part of it. They say that you don't marry someone you can live with – you marry the person who you cannot live without. Hence after almost two years of togetherness we decided to take it to the next level -we look forward to growing old and grey having each other by our side.
Peek-a-boo at our Wedding Plan:
Wedding Theme – Rustic Chic DIY wedding
Color Scheme – Ivory , burlap brown and baby blue(pastels)
Type – Al Fresco
Location of Solemnization – DaPaolo Bistro Bar, Rochester Park
Florist – Blue Leaf Florist
Decor / accessories – ETSY and DIY
Bridal wear & accessories –Vivian Gown & Lovisa
Groom's wear -T.M Lewin
Wedding bands– Lee Hwa Diamond Atelier
Pre Wedding Photo shoot -Meteor Workshop, AC Photography
ROM make up – Juju
Pre wedding make up – Janice
ROM Photoshoot – Synchronal Photography
Budget – As less as we can spend!!!