Ever since my Maid of Honor updated me that 5th of September would be my bachelorette, I was head over heels just with the thought of it. A night before, I literally scanned through my whole wardrobe to find some sexy black dress but to my greatest dismay they didn't really fit me anymore or was kind of a dress which was often repeated. Panic attack!! The very morning of the Bachelorette party, I headed straight to the mall to get something cheap but ended up spending a fortune on a lovely black dress.
My friends and I were dolled up in sexy black attire and met up in Clark quay, Pump room bar. I have always liked the place and thanks to my MOH to carefully pick that place for my hen's night.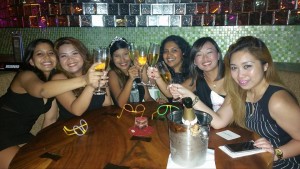 We started the night with wine, cheese and meat platter. It is better stuff our stomach with food while the night was young. The girls ordered wine and champagne and there was a surprise cake as well. I liked what was written on the cake "Last fling before the ring"!! They all were full prepared to bully the bride and made sure the singer of the band calls me up on the stage for a little dance. The red suited singer dedicated a lovely song to me "everything I do… I do it for u" by Bryan Adams and it was so touching. We also swayed our feet to the hit song by Bruno Mars "Think I am gonna marry you". I couldn't imagine that I was dancing on the stage all alone while the girls were busy taking my video. As the night passed by , the girls became more adventurous and started their insane "do the dare" game. I think I was sporty enough to get all the dares completed or maybe I give all the credits to Mr Alcohol which kicked in the right moment. We called it a day at around 3am after drinking, dancing and partying our hearts out. We left pump room all happy but with a pledge "whatever happened in pump room, stays in pump room".