A whimsical wedding was always my dream. Rustic charm, pastel hues and DIY was topped my wedding wish list. Together with my DIY freaky friends we decided to create a cozy wedding settings. We love the idea of getting married under a tree so we knew we wanted a garden setup at least for the solemnization. DaPaolo Bistro Bar turned out to be the perfect venue for our solemnization as it had a nice garden setting as well as an indoor venue for reception.
We did not engage any wedding planner as we didn't want to break our banks for the occasion. We managed to do the decorations keeping in mind the color and the overall rustic theme. My irvory, burlap brown and azure infused color palette totally got me smitten! For the flowers I chose my favorite million stars (baby breathe) and blue hydrangeas to be ornamented in burlap wrapped mason jars. Our Florist – Mr Gerard (http://www.theblueleaf.com.sg/ )also loaned us a lovely birdcage for the cards/gifts.
I designed my own wedding invite in lace with a wooden heart and got it done by an Etsy supplier (Loveforpolkadots). The ring holder is a heart shaped twine wrap up with our names crafted on it which we can later use it as a wall hanging.A local vendor at Carousell (ohChocco) helped me create this lovely personalized wooden guestbook with our initials and wedding date on it on a real budget rate. As Timo comes from an IT background and he helped me create our wedding website for me to share my wedding prep blog.
I made simple thank you cards which also serves as a tented name cards for the guests which they could bring back home.( for detailed direction please refer to : https://drishti.vomstein.me/2015/07/diy-wedding-thank-you-cards/) . For favors, I always wanted to have a personalized touch and then I came across http://somethingturquoise.com/ – Tea tin wedding favors. Both Timo and I being tea freaks, so we decided to give our guests a slice of our happiness – cute tin filled with TWG lover's tea with personalized labels. (For detailed direction please refer to https://drishti.vomstein.me/2015/07/diy-tea-tin-wedding-favor/ ).
Hanging pictures using wooden pegs is in the trend. We printed our pictures of photoshoot, travel and childhood memories and pictures with friends and decided to hang them in jute twines with ivy creepers across the room. We also made a tear drop arrangement with pictures by hanging them with heart shaped pegs above the buffet table.Fairy lights & lanterns are always charming and added a tinge of spark in the ambience. Most of our stuff was locally sourced over Qoo10, Carosell and almighty Ikea.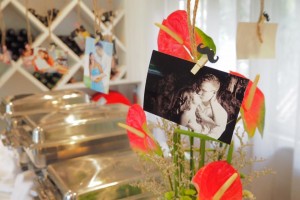 I am blessed with really creative friends who helped me save a lot of time and effort in coming up with overwhelming ideas to create a cozy and intimate affair. I love DIY as it helps express our gratitude to all our family and friends who joined us in our celebration of love. The just-married flag buntings & banners for the birdcage and mason jars in white paper doily and brown craft paper were created by my friend Tulika (Instagram @nutsboutpainting) who is also freelance art director. She crafted all the embellishments keeping in mind the finest artistic details and topped it up with tiny blue heart shaped cut outs which was a total cherry on the cake. Chris (http://picsandtots.weebly.com/ ) is rather my wedding planner in disguise who helped me create this exquisite corkboard seating chart in brown and azure blending with the theme.
She also helped a lot in the wedding coordination and I would be totally lost without her advice. Joanne – my maid of honor way my guardian angel who always kept her free-flow of ideas on the decorations. She comes up with a new ideas every day!! We spend an evening creating pretty lace &twine wrapped mason jars with tea light candles. Joanne was sweet enough to go on a décor supply shopping all by herself across Singapore just for my wedding. Kudos to all three lovely ladies!!
Timo and I didn't want a lavish wedding, just something warm and intimate where friends and relative can mingle and reminisce. DIY wedding was a smart choice for us as it is helps us come up with thrifty ideas and the whole process is fun! The feeling of looking at your own hard work come together on the day itself is also pretty priceless.