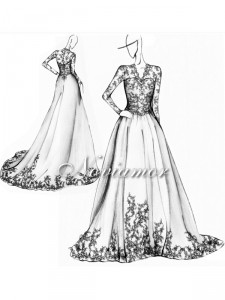 Time is running, galloping and in fact flying at the speed of light. I cannot imagine our wedding is in just 3 months down the late. panic attack!! It's high time I hunt for my wedding gown! After reading a lot of Blogs and forums, I realized that buying a gown from a bridal boutique is not my cup of tea. They are quite pushy and pretty professional when it comes to selling the entire package deal. As I am not looking for a package deal, I opt for a freelance designer (of course not Vera Wang). I came across this Designer Vivian Vivian www.viviangown.com who can make gowns as per the bride's request and design. That was awesome! As I am petit I would anyways prefer MTM (make to measure).
So last Tuesday after work, along with my maid of honor and a friend we decided to meet the Designer at her home which is also her workplace. The journey from Joo Koon to Hougang was never ending but we all were so much bubbling with excitement as this was our very first gown shopping! Vivian was very sweet and took us to the room full of sample gowns. She clearly mentioned that if we want to mix and match, she can definitely help us with some ideas of a gown of our choice. After trying a few gowns, I was already tired!!! I wonder how girls' end up gown shopping the entire day. Vivian was really patient in explaining us different fabrics, lining and laces making us feel the various types as she explains. I agree I was totally ignorant in that area. Finally after a lot of discussion we arrived at a conclusion: A low neckline back, tulle with lace applicants over the body with an empire waist line in ivory white. I was charged a decent amount of 1060 SGD which I think is definitely value for money. I really hope my dream dress suits me good. Can't wait for it to be ready! Vivian will send me the rough sketch soon and my first try would be in August so that she has ample time for alteration until my wedding day. Vivian also showed us few of her past works which was totally mind-blowing! She actually make a ditto replica of a Monique lhuillier gown for one of her client. She also showed me how she transformed a design on a cake to a lovely lace applicant on a gown upon the request of a client. It was indeed very creative. A electrical Engineer by education, Vivian choose to pursue her career in gown design and tailoring after being inspired by her mum who is also an seamstress by profession. Vivian has her business from the past 7 years. I would totally recommend this place as a one stop shop for all the budget brides who want to be their own designer.
I came back home as a happy soul! It was lovely to meet such a down to earth person who actually enjoys her work and I finally can sleep peacefully thinking that I got my dream bridal gown as a considerable price. and of course now I am a pro in fabrics and laces too haha.
P.S – I won't be uploading any gown sketches or pictures as I don't want my fiancé to find out my secret dress. (hehe!)