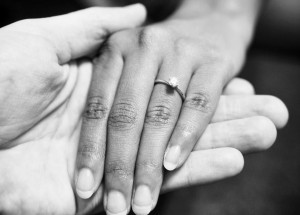 Every girl dreams for a beautiful proposal. In short I can describe my proposal as "A Beautiful surprise".
I had always hinted him that I want something intimate and exclusive for just the two of us. I sometimes fail to react aptly when I have too many people around (haha!) and luckily he noted this fact. Although I knew "The Proposal" was soon on its way but least expected it to be on that very day.
How did he pop the question? Here goes the story!
It was real bad day at work as I had messed up a big assignment. I was stuck at office longer than usual while I constantly kept receiving texts from Timo inquiring when I would be home as he is preparing a good dinner. This did not raise an alarm because he often likes to cook good meals. I reached home sulking. I saw him busy preparing an awesomely roasted meat. I pecked him and then hurried for my phone to make some conference calls totally unaware of the house being cleaned and decked up. I was really preoccupied. After a while, I heard him say "dinner is ready to be served".  Only then did I realize that Timo had made all the efforts to create the perfect ambience – al fresco dinner at our little balcony, soft jazz music, fairy lights and candles. Every single element was specially catered to what I like! I praised him for his effort for making my day end up not so bad after all. The food was sheer awesomeness!! He offered me a glass of wine several times and I rejected stating that I am very stressed with work at the moment. However during our dinner time I chose not to discuss work and just enjoyed some light conversations as always. After completing dinner I just chilled on the couch and he was playing around his camera which was placed on the tripod from last few days. I asked him inquisitively what is he up to and he casually replied that he wanted to capture some night shots from our balcony. We sat in our couch and while we were joking around with each other , he suddenly bent down on one knee and asked " Will you marry me?". A whirl of emotions went through me. I was taken aback as I still couldn't believe that this was for real. He asked me once again "How long do I need to bend down? Is it a yes or a no?" and then I said it loud 'YES!!!!!!" I knew this is the man I love so dearly and he is the one I want to spend the rest of my life with. Tears of joy kept rolling down my eyes as he finally placed the ring on my finger. And to add the cherry on the cake, he captured every single memory by filming the whole event though his secret camera. Then it finally clicked me why he was so decked up on a Monday evening at home as he wanted to look presentable in the video. To my dismay, I wore the ugliest shorts and had super messy hair.
But nonetheless it was really special evening – incredibly touching and  memorable for a lifetime.