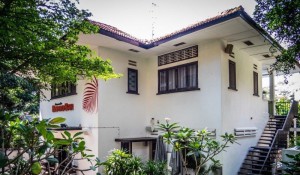 Both Timo and I always wanted to have cozy solemnization with our close friends and colleagues in Singapore as we have lots of memories attached to this place ,Singapore being the very place we fell for each other. Our Solemnization would be followed by a big traditional celebration in India and a wedding party in Germany.  It had always been my dream to have an al-fresco solemnization because of our immense love with nature. So we started our web hunt to search for Outdoor restaurants, gardens, poolside venues etc. etc. in Singapore through several online wedding forum such as weddingscoop , singaporebrides , perfectweddings.  We then shortlisted a few places to pay a visit for a short discussion and of course to check out the place. Below are my personal feedback about the places I visited:
Rochester Park- It has a lovely outdoor solemnization setup amidst the nature and away from the hustle- bustle of the city with sheltered seating area for around 25 people. The first floor room was exclusive for private dining but was suitable for bigger groups of people. As I was looking for something more intimate and for a crowd of 25, it did not suit my criteria. However the place has a dedicated wedding planner who would tailor make the entire event according to the requirement of the wedding couple.
daPaolo Bistro Bar- Located among the lush foliage of Rochester Park , daPaolo was another entry in my al-fresco location. What I liked the most was a stage for solemnization with walking aisle. The entire ambiance created a proper feel for an intimate solemnization I was looking for. They also provide an exclusive dining room in level 2 for private dining/ reception and the F&B package seemed reasonable to us. They have their recommended florist for décor. However they do not provide any bridal dressing room. To add on, we loved the Events Manager Mr David Chen from daPaolo group. He was so hospitable and friendly that we felt really welcomed.
SKyve Wine Bistro – Skyve was our next destination. The wedding coordinator at Skyve recommended us to use the al-fresco area as we have a smaller crowd. They have some lovely canapés menu at S$45 per pax which I really liked and suitable for cocktail parties. Decorations are also offered by them with an additional top up. However to my eyes the place looked a bit run down, maybe it might look nice once decked up for the party.
Amara Sanctuary Resort –We dropped by Amara Sanctuary on a weekend to check out the Glass Pavilion as it looked amazing in the pictures. The events/wedding manager Mr Alan was very friendly and showed us around the whole place. The glass pavilion with beautiful glass chairs was very charming. Moreover they were willing to provide many FOC items to us. The only drawback was the dining area was not separate and we were offered a tiny section of their restaurant. As we are looking for something more private it didn't suit us.
Lewin Terrace – It is the most beautiful place I visited for my wedding venue. The entire place was so prim and properly set up and I could start my solemnization right away. The place had a colonial touch and I would strongly recommend it for people who loves vintage Black and White wedding. Perched in the depths of Fort Canning and the surrounding greenery, Lewin Terrace is definitely a romantic venue. However their package has a min of 30 pax and we were below the required quantity. Moreover they were a bit overpriced and outside my keep it cheap budget. But couples with fat pockets can definitely try this awesome bungalow wedding venue.
Reddot Brewhouse
After viewing several places we were still hung up on our first love- daPaolo Bistro Bar and fell head over heels with the alfresco arrangements the entire dining setup… It was nestled in the middle of greenery and had the right vibe that we are looking for with a really friendly / hospitable crew. To us people with their right attitude does win an extra bonus. David Chen stole the entire points for it.
Dinner Style: Buffet
No of guests: 30 to 35pax
Cuisine: Continental/ Western
Drinks: Free Flow Wine/Beer/Processo for 3 hours
Duration: 1 hour outdoor solemnization + 4 hours indoor reception
Venue: Private dining hall
(P.S- I will post more pictures of this place once I pay them my second visit to finalize the venue.)